Outdoor Climbing Courses in Utah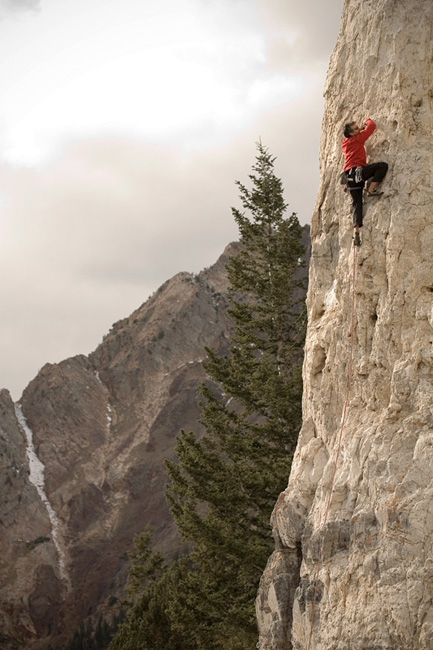 Ready to transfer your hard earned Momentum climbing skills to the real rock? Or are you just visiting and anxious to check out the crags that lead Rock and Ice Magazine to dub Salt Lake "America's Climbing City"? Granite, Quartzite, Limestone- we have it all right here close to Momentum. How about a desert tower?
Climbers come from all over the world to do climbs at famous Indian Creek and the sandstone towers around Moab, less than a half-day's drive from our parking lot.
For your outdoor adventures, Momentum has contracted with the rock guides at Red River Adventures, who have some of Utah's most experienced and well-qualified guides on staff. RRA guides are experienced professional climbers who have climbed rock, alpine, boulders, at altitude and ice on 5 continents. Each is AMGA certified, familiar with the latest techniques, safety standards and familiar with climbing on all of Utah's varied rock types. From face to cracks, sport to traditional, top roping set-up to long multi-pitch technique and efficiency- Red River's guides can show you how.
Level of difficulty and style of climbs are tailored to your ability level! This is all about time spent on the rock, yet you'll take away basic knowledge about:
Types of climbing
Movement on rock
Outdoor safety concerns
Knots
Belaying
Lowering/rappelling
This course is for climbers who want to move beyond top roping or "following," and begin sport and multi-pitch climbing on their own. You should already have a basic understanding belaying and climbing techniques. We will help you expand your knowledge in a number of areas including:
Building/cleaning anchors
Lead climbing outdoors
Equipment; what's needed, choices and proper use
Advanced climbing techniques.
Multi-pitch strategy
Safety/efficiency
Or To Print Waiver
Click Here
For Smartphone Waivers Tap Here
(801) 990-6890
220 west 10600 South
Sandy, Utah 84070
Map